Prepare and Support Your Mobile Workforce for the Future:
2018 International Corporate Health Trends Report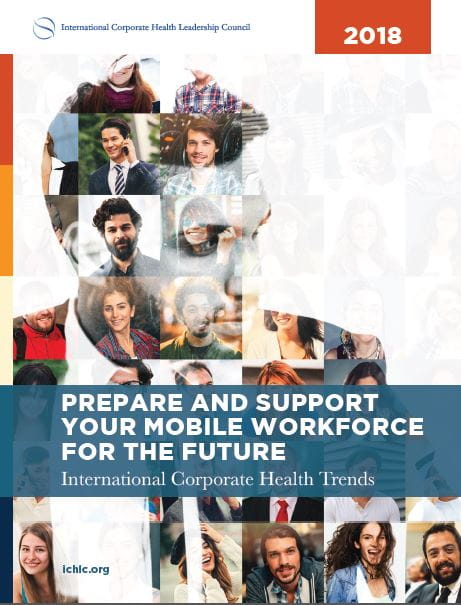 In the 2014 report, the Council identified five health trends and 10 recommended actions that best protect the globally mobile workforce. Like the Corporate Health Trends 2014 report, this report, with an eye on the future, assesses current literature and reviews corporate polling results to provide management with recommendations to best protect and support an organization's mobile workforce. In this report the Council surveyed global organizations (n=344), reviewed recent literature, and canvassed leading experts to document what they believe to be the most relevant global health trends for 2018 and beyond. In this 2018 report, the Council identified eight new health trends and modified the 10 recommended actions to reflect these new trends.
The purpose of this report is three-fold:
Evaluate and document the global health trends with an eye on the future and the real and potential impact of these trends on employee health
Provide expert guidance to corporate management regarding the benchmark standards and best practices to mitigate against the impact of those negative trend
Offer future predictions for global health trends
Why these recommendations matter:
Organizations of all sizes continue to expand their reach into new global markets. With this growth, new health-related challenges arise and new solutions are required. Employee health is considered critical to business productivity and resiliency. The Council is a forum of the leading world corporate health experts whose purpose is to help organizations meet their employee health needs wherever they work or travel. Here are five reasons why the Council recommendations matter:
Better employee health drives productivity and the bottom line
Efficient employee health services are expected
Employee health resiliency is critical to business continuity
Corporate health is a business differentiator
Best corporate health programs are a component of best rated companies