32nd International Commission on Occupational Health (ICOH)
Dublin, Ireland
April 30, 2018
The ICOH congress is one of the world's largest international congresses in the field of occupational health and safety where experts from all around the gather every three years to share their experience and knowledge.
Executive Chairman, Robert Quigley, MD, D. PHIL presented at ICOH on the "Impact of mental illness on productivity of the mobile workforce as the worker profile transitions from baby boomer to millennial." Based on our 2018 International Corporate Health Trends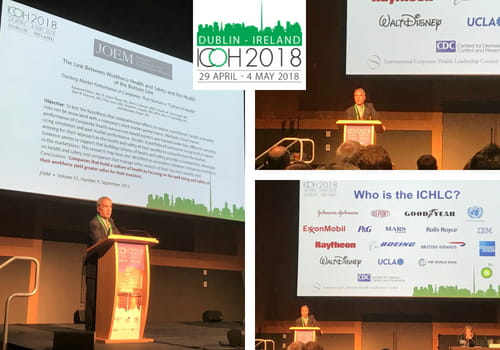 Conference: Thursday, November 23, 2017
Boundless Care for Protecting Your People Beyond Borders
4th Annual China Conference
November 23, 2017
On Thursday, November 23, International SOS China successfully hosted the 4th Annual China Conference in Beijing, themed with Boundless Care for Protecting Your People Beyond Borders. This year, they had a record 276 external attendees of 350 registrants, 15 guest speakers and panelists, 9 internal guest speakers, 6 exhibition booths, 7 media, all of which made the Annual Conference an exciting platform to interact with our clients, prospects and partners. International SOS medical and security experts, government representatives, well-known scholars, senior executives from China Communications Construction Company (CCCC), China National Petroleum Corporation (CNPC), China ZhenHua Oil, China Mobile, ABB, Tyco Electronics and other corporate representatives gathered together at this grand summit.
In addition, during this event, the International Corporate Health Leadership Council's 2018 International Corporate Health Trends Report and corresponding infographics were presented. The information highlighted the new and evolving trends within international corporate health through the Council's framework of People, Place and Purpose. The session received positive feedback from attendees.
Speaker: