Conference: Thursday, November 23, 2017
Boundless Care for Protecting Your People Beyond Borders
4th Annual China Conference
November 23, 2017
On Thursday, November 23, International SOS China successfully hosted the 4th Annual China Conference in Beijing, themed with Boundless Care for Protecting Your People Beyond Borders. This year, they had a record 276 external attendees of 350 registrants, 15 guest speakers and panelists, 9 internal guest speakers, 6 exhibition booths, 7 media, all of which made the Annual Conference an exciting platform to interact with our clients, prospects and partners. International SOS medical and security experts, government representatives, well-known scholars, senior executives from China Communications Construction Company (CCCC), China National Petroleum Corporation (CNPC), China ZhenHua Oil, China Mobile, ABB, Tyco Electronics and other corporate representatives gathered together at this grand summit.
In addition, during this event, the International Corporate Health Leadership Council's 2018 International Corporate Health Trends Report and corresponding infographics were presented. The information highlighted the new and evolving trends within international corporate health through the Council's framework of People, Place and Purpose. The session received positive feedback from attendees.
Speaker: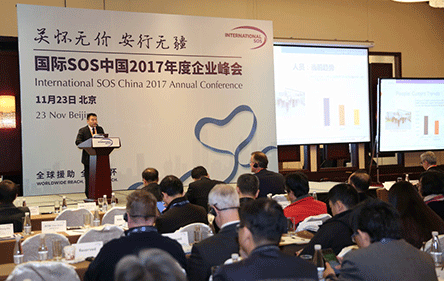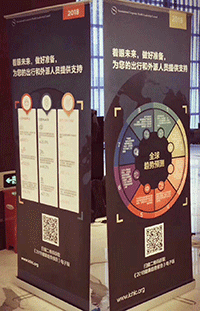 Benchmarking Best Practices Towards a Global Culture of Health
American Occupational Health Conference
April 11, 2016
The Council surveyed global organizations, reviewed recent literature and canvassed leading global health experts. Six corporate health trends were identified and 10 key recommended actions were established to best protect an organization's global assets (its employees).The actions are based on three pillars: people, place, and purpose.
This presentation outlines the Councils' findings and recommended actions. After completing this sessions, participants will be able to:
Cite the six corporate health trends as established by ICHLC.

Identify the 10 key recommended actions established to best protect an organization's global assets.

Describe the mission of the Council and the work that the Council is seeking to accomplish.

Identify the three pillars that the recommended actions are based on.
Speakers:
Charles Yarborough, MD, MPH, FACOEM, Honorary Chairman of ICHLC

Robert L. Quigley, MD, D.Phil, Professor of Surgery, Regional Medical Director, Senior VP of Medical Assistance (Executive Chairman), International SOS

Myles Druckman, MD, SVP & Regional Medical Director, Americas Region (Executive Chairman), International SOS
Forum for Employee Health Management Solutions
HERO Forum
September 29, 2015
Global organizations large and small are crossing borders into new markets, and it is inevitable that their employees will endure additional risks and require additional resources to meet their business objectives. A survey by the International Corporate Health Leadership Council identified six trends and ten key recommendations that can protect the globally-mobile workforce. In order to succeed and grow, organizations need to address these new challenges. Failure to manage them can lead to loss in global talent, productivity, and revenue and can result in business disruption.

After completing this session, participants will be able to:

Evaluate global health trends and the impact on employee health. 

Provide guidance to corporate management regarding benchmarking standards and best practices to mitigate the impact of those trends. 

Identify programs to support an internationally mobile workforce.
Speaker:
Charles Yarborough, MD, MPH, FACOEM, Honorary Chairman of ICHLC